---

Compact and light weight are realized by special mechanism.
In a general unit combined single axes stage requires X axis unit to support the weight of Z axis, therefore it needs installation of a bigger motor.
MPR-100S can drive to the various directions by combination of rotation of two stepping motors placed on same line. By driving combined torque of 2 motors, required motor size is smaller and the unit becomes compact.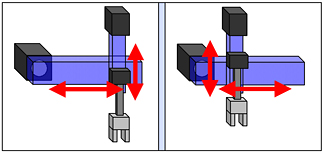 [General mechanism combined single axis stage]
[Driving pattern installed MYCOM special mechanism]
Stepping motor and driver of NanoDrive control are mounted at driving part.
A 2 phase stepping motor of NanoDrive type control, which can drive at the maximum 200,000 resolutions per one rotation, is installed at the driving part of pick and place unit resulting in a high accuracy, low vibration and high speed positioning.
(In case that 5 phase stepping motor is used in NanoDrive type control, the maximum 500 thousand resolutions per rotation is available.)



Man machine interface, GUI(graphical user interface) is prepared for easy operation of pick and place.
Special application software is prepared to enable various pick and place operations by graphical showing in window.
Each position data is settable on the window which images actual pick and place operation, without consciousness of driving pulse numbers or rotating direction of two motors.
Speed setting of individual rising / falling movement is available. For example, rapid movement until gripping work of falling movement then slow rising movement after gripping is available.



Optional parallel open and close chuck can flexibly support every shape or work materiel.
The optional parallel open and close grip without spring when gripping work.(PO-3010)
Pressure sensor is also available to adjust the strength of grip or distinction of "Gripped or not" is possible.



 
Optional parallel open-close chuck
「PO-3010」
Optional tweezers chuck
「PO-3006」
---